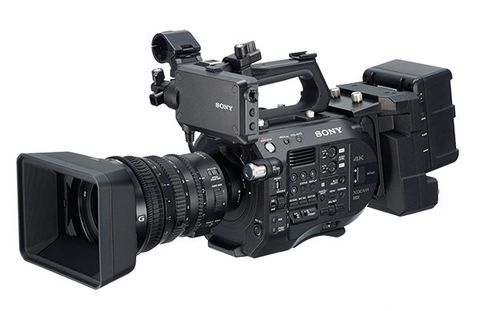 PXW-FS7M2 / PXW-FS7M2K
Thương hiệu:
Khác
Freedom to shoot & move withElectronic Auto Variable NDShooting with FS7 II is a truly liberating experience – shoot and move with no need to worry about changing light conditions, no time wasted...
Freedom to shoot & move with
Electronic Auto Variable ND
Shooting with FS7 II is a truly liberating experience – shoot and move with no need to worry about changing light conditions, no time wasted fiddling with exposure settings or changing filters. Sony's unrivalled technology continuously adjusts the density of the electronic ND Filter without losing resolution while maintaining colour balance. See FS7 II in action for yourself to discover how Sony has transformed shooting on the move.
E mount flexibility extended
E-mount offers unsurpassed compatibility with both Sony and third-party lenses. And for FS7 II there's an all-new lever lock design. Simply put the lens in place and rotate the collar until it locks in place. A lens release lever provides added security. The process of switching lens can be simplified to save time. And of course, the E-mount can take cinema lenses and SLR lenses with a third party adaptor, as well as Sony's E-mount and A-mount lenses. Whatever your lens requirements, FS7 II has you covered.
Super 35/APS-C power zoom for 4K movies
SELP18110G powered zoom lens delivers optimum performance in Super 35/APS-C moviemaking applications, starting at 18 mm wide-angle and extending through an impressive 6.1x zoom range with a constant F4 maximum aperture.
G Lens optical performance suitable for 4K throughout the zoom range.
Lag-free mechanical manual zoom for high-level, versatile zoom control.

Refined manual focus operation for subtle adjustment.

Optical SteadyShot image stabilization helps keep images blur-free as well as minimising the need to boost ISO in low light conditions.

Compact, lightweight design ideal for active shooting and when using gimbals.

Reliable in challenging conditions with a sealed dust and moisture resistant design.
You also have the choice of purchasing the FS7 II on its own (PXW-FS7M2) or with SELP18110G lens (PXW-FS7M2K).
Shoulder mount comfort and control
FS7 delivered a revolution in ergonomics, but we listened to cinematographers to make FS7 II even more comfortable to use, especially when operating for hours in the field. The number of assign buttons is increased from six to ten, all extra large, while the LCD monitor arm and mic holder can be swapped for left-eye shooting. The telescoping arm offers even more settings, allowing the camcorder to be mounted closer to your body and you no longer need a tool for adjustments.
You can be sure the remarkable Sony smart grip is always at hand with all the key controls at your fingertips.
180 fps High Frame Rates
High Frame Rate shots can turn everyday actions into slow-motion ballet, a visual feast of elegant movement. The FS7 II delivers a maximum of 180 frames per second (fps) continuous shooting in Full HD. If your project plays at the cinematic 24 fps, you get beautiful 7.5x Super Slow Motion. There's no sacrifice in bit depth and no "windowing" of the sensor. So there's no crop factor, no loss in angle of view. The camera also performs Slow & Quick (S&Q) motion from 1 to 180 fps in 1 fps increments. So you can alter the narrative by selectively speeding up or slowing down the action.
Luxurious colour at
money-saving bitrates
Long-form projects shine with Sony's XAVC™ L (Long GOP) recording system. Record luxurious QFHD at 59.94p/50p at a maximum bit rate of 150 Mbps. Or take advantage of the superior grayscale rendition of 10-bit High Definition, plus the uncompromised detail of 4:2:2 colour – all at budget-friendly data rates of 50, 35 or even 25 Mbps in HD mode. You can also record on-board 4K (4096x2160) at cinema standard 24p, 59.94p, 50p, 29.97p, 23.98p or 25p. The camera captures different colour spaces, including the wide ITU-R BT.2020 for Ultra High Definition.
Other formats include XAVC I (Intra) 4K at 600 Mbps, QFHD (3840x2160) and Full HD (1920x1080), plus the well-accepted MPEG HD 422, Apple ProRes 422 (with XDCA-FS7 extension unit, sold separately), and even outboard RAW recording (with XDCA-FS7 and outboard recorder, sold separately).
XAVC-L
50 Mbps
262 min
Full HD
QD-G128A
128 GB
XAVC-L
35 Mbps
374 min
Full HD
QD-G128A
128 GB
XAVC-L
25 Mbps
524 min
Full HD
QD-G128A
128 GB
Next-generation memory
Long-form programs need media that's both reliable and affordable. As specified by the CompactFlash Association, XQD™ memory cards score big on both accounts. Reliability comes from in-camera recovery. You get very low cost per minute compared to CFast™ cards.
Sony's G-Series XQD card extends these benefits with "EB Stream" technology for a blistering 400 Mbps write-speed and 440 Mbps read-speed. Using our 256GB G-Series card, you can record approximately 45 minutes of 4K footage at 60P or 3.5 hours at 30P in 2K. And when it's finally time to swap out cards, it's now even easier – on FS7 II the card protrudes by a more easily pinchable 8mm.
Technical Specifications
Please be aware that the features/specifications can differ from country to country
General
Mass

Approx. 2.0 kg (body only)




Approx. 4.5 kg (with Viewfinder, Eyepiece, Grip Remote Control, BP-U30 battery, SELP18110G LENS, an XQD memory card)

Dimensions (W x H x D) *1

158.9 x 245.2 x 247mm (body without protrusions)

Power Requirements

DC 16.5V (battery pack)




DC 12.0V (AC adaptor)

Power Consumption

Approx. 19W (while recording XAVC-I QFHD 59.94P, SELP18110G Lens, Viewfinder ON, not using external device)

Operating Temperature

0°C to 40°C




32°F to 104°F

Storage Temperature

-20°C to +60°C




-4°F to +140°F

Battery Operating Time

Approx. 1 hrs. with BP-U30 battery (while recording XAVC-I QFHD 59.94P, SELP18110G Lens, Viewfinder ON, not using external device)




Approx. 2 hrs. with BP-U60 battery while recording XAVC-I QFHD 59.94P, SELP18110G Lens, Viewfinder ON, not using external device)




Approx. 3 hrs. with BP-U90 battery (while recording XAVC-I QFHD 59.94P, SELP18110G Lens, Viewfinder ON, not using external device)

Recording Format (Video)

XAVC-I mode:DCI4K 59.94P CBG, bit rate 600Mbps, MPEG-4 H.264/AVC




XAVC-I mode:DCI4K 50P CBG, bit rate 500Mbps, MPEG-4 H.264/AVC




XAVC-I mode:DCI4K 29.97P CBG, bit rate 300Mbps, MPEG-4 H.264/AVC




XAVC-I mode:DCI4K 23.98P CBG, bit rate 240Mbps, MPEG-4 H.264/AVC




XAVC-I mode:DCI4K 24.00P CBG, bit rate 240Mbps, MPEG-4 H.264/AVC




XAVC-I mode:DCI4K 25P CBG, bit rate 250Mbps, MPEG-4 H.264/AVC




XAVC-I mode:QFHD 59.94P CBG, bit rate 600Mbps, MPEG-4 H.264/AVC




XAVC-I mode:QFHD 50P CBG, bit rate 500Mbps, MPEG-4 H.264/AVC




XAVC-I mode:QFHD 29.97P CBG, bit rate 300Mbps, MPEG-4 H.264/AVC




XAVC-I mode:QFHD 23.98P CBG, bit rate 240Mbps, MPEG-4 H.264/AVC

Recording Format (Video)

XAVC-I mode:QFHD 25P CBG, bit rate 250Mbps, MPEG-4 H.264/AVC




XAVC-I mode:HD 59.94P VBR, maximum bit rate 222Mbps, MPEG-4 H.264/AVC




XAVC-I mode:HD 50P VBR, maximum bit rate 185Mbps, MPEG-4 H.264/AVC




XAVC-I mode:HD 59.94i VBR, maximum bit rate 111Mbps, MPEG-4 H.264/AVC




XAVC-I mode:HD 50i VBR, maximum bit rate 112Mbps, MPEG-4 H.264/AVC




XAVC-I mode:HD 29.97P VBR, maximum bit rate 111Mbps, MPEG-4 H.264/AVC




XAVC-I mode:HD 23.98P VBR, maximum bit rate 89Mbps, MPEG-4 H.264/AVC




XAVC-I mode:HD 25P VBR, maximum bit rate 112Mbps, MPEG-4 H.264/AVC




XAVC-L QFHD 59.94P/50P mode: VBR, maximum bit rate 150Mbps, MPEG-4 H.264/AVC

Recording Format (Video)

XAVC-L QFHD 29.97P/23.98P/25P mode: VBR, maximum bit rate 100Mbps, MPEG-4 H.264/AVC




XAVC-L HD 50 mode: VBR, maximum bit rate 50Mbps, MPEG-4 H.264/AVC




XAVC-L HD 35 mode:VBR, maximum bit rate 35Mbps, MPEG-4 H.264/AVC




XAVC-L HD 25 mode:VBR, maximum bit rate 25Mbps, MPEG-4 H.264/AVC





MPEG HD422 mode:CBR, maximum bit rate 50Mbps, MPEG-2 422P@HL

Recording Format (Audio)

LPCM 24 bits, 48 kHz, 4 channels

Recording Frame Rate

XAVC-I DCI4K mode: 4096x2160/ 59.94P, 50P, 29.97P, 23.98P, 24P, 25P




XAVC-I QFHD mode: 3840x2160/ 59.94P, 50P, 29.97P, 23.98P, 25P




XAVC-I HD mode: 1920x1080/59.94P, 50P, 59.94i, 50i, 29.97P, 23.98P, 25P




XAVC-L QFHD mode: 3840x2160/59.94P, 50P, 29.97P, 23.98P, 25P




XAVC-L HD 50 mode: 1920x1080/59.94P, 50P, 59.94i, 50i, 29.97P, 23.98P, 25P




XAVC-L 35 mode: 1920x1080/59.94P, 50P, 59.94i, 50i, 29.97P, 23.98P, 25P




XAVC-L 25 mode: 1920x1080/59.94i, 50i




MPEG HD422 mode: 1920x1080/59.94i, 50i, 29.97P, 23.98P, 25P




1280x720/59.94P, 50P, 29.97P, 23.98P, 25P

Recording/Playback Time

XAVC-I mode QFHD 59.94P




When using QD-G128A(128GB):




Approx. 22 minutes




XAVC-I mode QFHD 50P




When using QD-G128A(128GB):




Approx. 26 minutes




XAVC-I mode QFHD 29.97P




When using QD-G128A(128GB):




Approx. 44 minutes




XAVC-I mode QFHD 23.98P




When using QD-G128A(128GB):




Approx. 55 minutes




XAVC-I mode QFHD 25P




When using QD-G128A(128GB):




Approx. 52 minutes

Recording/Playback Time

XAVC-I mode HD 59.94P




When using QD-G128A(128GB):




Approx. 59 minutes




XAVC-I mode HD 50P




When using QD-G128A(128GB):




Approx. 71 minutes




XAVC-I mode HD 59.94i




When using QD-G128A(128GB):




Approx. 118 minutes




XAVC-I mode HD 50i




When using QD-G128A(128GB):




Approx. 141 minutes




XAVC-I mode HD 29.97P




When using QD-G128A(128GB):




Approx. 118 minutes

Recording/Playback Time

XAVC-I mode HD 23.98P




When using QD-G128A(128GB):




Approx. 147 minutes




XAVC-I mode HD 25P




When using QD-G128A(128GB):




Approx. 141 minutes




XAVC-L mode QFHD 59.94P/50P




When using QD-G128A(128GB):




Approx. 87 minutes




XAVC-L mode QFHD 29.97P/23.98P/25P mode:




When using QD-G128A(128GB):




Approx. 131 minutes




XAVC-L 50 mode




When using QD-G128A(128GB):




Approx. 262 minutes

Recording/Playback Time

XAVC-L 35 mode




When using QD-G128A(128GB):




Approx. 374 minutes




XAVC-L 25 mode




When using QD-G128A(128GB):




Approx. 524 minutes




MPEG HD422 mode




When using QD-G128A(128GB):




Approx. 262 minutes
Lens
| | |
| --- | --- |
| Lens Mount | E-mount (lever lock type) |
Camera Section
Imaging Device (Type)

Super35 type Single-chip Exmor CMOS

Effective Picture Elements

17:9 4096 (H) x 2160 (V)




16:9 3840 (H) x 2160 (V)

Built-in Optical Filters

ND filters




OFF: CLEAR




1: 1/4ND




2: 1/16ND




3: 1/64ND




Linear variable ND (1/4ND to 1/128ND)

Sensitivity (2000 lx, 89.9% reflectance)

Video Gamma: T14 (3840 x 2160/23.98P mode 3200K)

ISO Sensitivity

ISO 2000(S-Log3 Gamma D55 Light source)

Minimum Illumination

0.7 lx (+18dB,23.98P,Shutter OFF,ND Clear, F1.4)

S/N Ratio

57 dB (Y) (typical)

Shutter Speed

1/3 sec to 1/9,000 sec

Slow & Quick Motion Function

XAVC-I mode 3840x2160: 1 to 60 frames (59.94P, 50P, 29.97P, 23.98P, 25P)




XAVC-I mode 1920x1080:1 to 180 frames (59.94P, 29.97P, 23.98P) 1 to 150 frames (50P,25P)




XAVC-L mode 3840x2160:1 to 60 frames (59.94P, 50P, 29.97P, 23.98P, 25P)




XAVC-L mode 1920x1080: 1 to 120 frames (59.94P, 50P, 29.97P, 23.98P, 25P)

White Balance

Preset, Memory A, Memory B(1500K-50000K)/ATW

Gain

-3, 0, 3, 6, 9, 12, 18 dB, AGC

Gamma Curve

STD,HG,User,S-Log2, S-Log3
Input/Output
| | |
| --- | --- |
| Audio Input | XLR-type 3-pin (female) (x2), line/mic/mic +48 V selectable Mic Reference: -40, -50, -60dBu |
| SDI Output | BNC(x2), switchable with 3G-SDI/HD-SDI SMTPE292M/424M/425M |
| USB | USB device, mini-B (x1) |
| Headphone Output | Stereo mini jack (x1) -16dBu 16Ω |
| Speaker Output | Monaural |
| DC Input | DC jack |
| Remote | Stereo mini-mini jack (Φ2.5 mm) |
| HDMI Output | Type A (x1) |
| Option | 4-pin, Type A for W-LAN (x1) |
Monitoring
| | |
| --- | --- |
| Built-in LCD Monitor | 8.8cm (3.5 type) Approx. 1.56M dots |
Built-in Microphone
| | |
| --- | --- |
| Built-in Microphone | Omni-directional monaural electret condenser microphone |
Media
Type

XQD Card slot(x2)




SD Card slot(x1) for saving configuration data
Supplied Accessories
Supplied Accessories

Body Cap (1)




Viewfinder (1)




Viewfinder hood(1)




Eyepiece (1)




Grip Remote Control (1)




USB wireless LAN module IFU-WLM3 (1)




Wireless remote commander (1) (RMT-845)




WA Adaptor Bracket (1)




AC Adapter(1)




BC-U1 battery charger (1)




BP-U30 battery pack (1)




Power cord (2)




USB cable (1)




Operating Guide (1)




CD-ROM "Manual for Solid-State Memory Camcorder" (1)




IS1293 power cord for India (Not supplied in some countries) (2)
Notes
| | |
| --- | --- |
| *1 | The values for dimensions are approximate. |
| *2 | Viewable area measured diagonally. |
| *3 | ECS: Extended Clear Scan |